Fat Grafting versus Fillers- Which is best for me and why?
Improve your chances of a beautiful outcome
Getting beautiful and natural results with any facial aging treatments is essential, as this is every patients goal. Injectable fillers and Botox are very common treatments, and there are just as many beautiful outcomes as people who look artificial or overly done. Patients deserve a terrific outcome every time. Part of achieving this is going to the right doctor with the right training and experience. A perfect outcome can never be guaranteed, but you can improve your chances of a beautiful result by seeing a properly trained expert injector. We rely on our doctors to advise us the best techniques to reach our goals. With such a variety of options, it can sometimes be overwhelming for patients. Here is a brief guide on how to decide which filler treatment is best for you. Let's compare the magic of fat transfer using your own body tissue with off-the-shelf products such as Juvederm and Restylane. Each has their advantages and risks. Armed with good information, you, along with your talented plastic surgeon, can make the best choice to see a beautiful, long-lasting and natural outcome. A proper treatment should help reverse some of the inevitable signs of aging and environmental stress on your skin.
What happens to our face as we age?  The history of fat transfer
The greatest event of the last 25 years in understanding the facial aging process was the realization that we lose volume in our facial fat pads over time. California plastic surgeon Dr. Val Lambros performed ground breaking research, demonstrating the gradual deflation of the cheek and jowl fat pads over decades. The old-fashioned notion of just pulling and lifting was incomplete. A New York plastic surgeon, Dr. Sydney Coleman, was one of the first to promote fat transfer as a means of correcting the signs of facial aging. It is a living tissue, and when removed gently with liposuction from the thigh or tummy, it can be carefully injected into the cheek facial areas for a long-lasting rejuvenation. Blood vessels grow into the fat, and the natural growth factors promote improved skin texture and shape. It is truly remarkable.

Fat grafting to the cheek lip lower face along with the lower facelift, one year after surgery
I started performing fat grafting around the year 2000 as a plastic surgery resident at Cornell Medical Center in the upper east side of Manhattan, NY. My mentor Dr. Lloyd Hoffman is a master teacher and facelift surgeon, and along with Dr. Larry Reed, I learned early in my career the power of the comprehensive approach to facial Rejuvenation. With some volume filling, some gentle lifting and skin removal, and surface improvements with peels or lasers, results of a Dr. Suzman facelift were never obvious or detectable.
After hundreds if not thousands of facial fat transfer procedures, I'm continually impressed in the naturalness, safety and longevity of this procedure. More recently, a plastic surgeon from Belgium, Dr. Patrick Tonnard, has again revolutionized fat grafting with a concept of "nanofat". With this nanofat technique, fat is filtered until it is very thin, and can be safely injected with a very small needle. Nanofat is packed with growth factors and stimulates collagen, improves texture and elasticity of the skin and blood flow to the dermis. Patients see a reduction in wrinkles, improved skin appearance, and even a reduction in abnormal pigment, such as dark circles under the eyes. I've used it safely for cellulite, fine wrinkles around the lips, crepey skin of the lower neck, and the upper chest decolletage area. These are areas that hyaluronic acid fillers like Juvederm and Restylane cannot treat effectively.

Dr. Suzman Lower facelift fat graft patient showing improved contour volume and reduction and fine wrinkles
Choosing the right doctor for your cosmetic procedures
Fat grafting is very safe in the right hands,  though it really should be only used by properly trained surgeons who have completed a multi-year residency in plastic surgery with board certification. There are risks of injecting into a muscle nerve artery or vein which could have catastrophic consequences. Properly trained surgeon who understands anatomy can do this safely. Treating the substructure of the skin in face is, I believe,  far beyond the training provided in non plastic surgery specialties such as dermatology,  ophthalmology, general medicine or OB/GYN.  Ideally, look for a plastic surgeon who is a member of the Aesthetic Society, which is limited to board-certified, highly trained specialists in aesthetic plastic surgery. Please be aware that there is an organization called the American Academy of cosmetic surgery, but it is not accredited by the American Board of Medical Specialties, is non-sanctioned private organization that generally provides education to non-plastic surgeons in how to do plastic surgery. I do not believe this serves the interests of the public in terms of promoting the highest standards of training and safety.
Fillers are popular for a reason
Now let's talk about filler products. The most popular ones contain hyaluronic acid which is a natural substance found in our skin between the collagen fibers. It is synthesized in the lab, and engineered to varying degrees of thickness and longevity. These products are popular for a reason - they work and when done properly they can be wonderful. The results are typically subtle that do make an effective difference. Again, you see these products by highly trained doctors and aesthetic nurses in physician assistants. Over injection, improper injection, black aesthetic for an atomic understanding can result in truly the phone working patience. Many people with fillers do not look younger, just injected and overinflated. However, when done properly, it is impossible to know that a person has had injectables. He just looked rejuvenated. The most effective place to use fillers and injectables is in the cheek area in the crease between the nose and the love. These areas are called The malar zone and the nasolabial fold. Careful injection into these areas and Fanning out across the cheek to the ladder aspect of the cheap results from Dental filling and lifting. When the cheek fat plant is inflated to roughly as round and high as when a patient is smiling, and the results can be excellent. Builders near the lower eyelid folds or tear trough must be used with great caution. Very frequently, the seller does not help this area and just makes the area look more puffy. Fillers can also help to find the jawline and treat the area between the chin and the gel. Fillers to the lip, predictably the red white border of the lip can help accentuate the area naturally.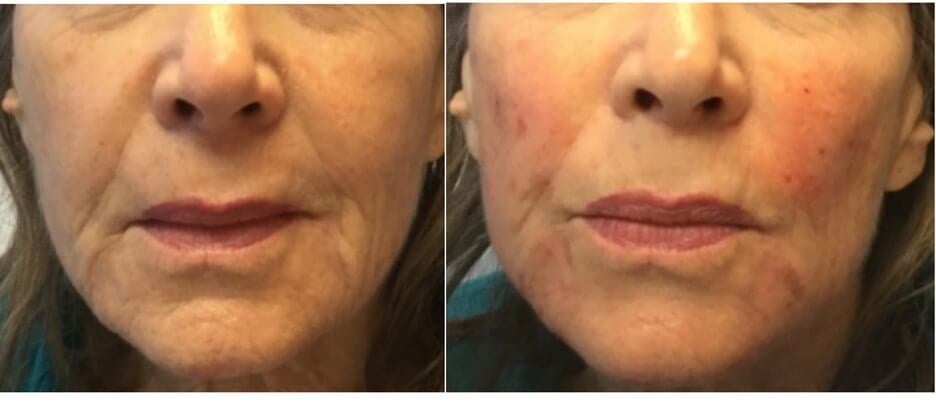 Voluma injection patient to the lip, marionette lines and wrinkles near the mouth
Filler injections can typically be done in a half hour visit, either by your MD or trained PA or NP (not an aesthetician). There can be bruising for a week or two that can be covered with makeup, but often bruising can be minimal. There are risks such as injection into an artery vein muscle or nerve, and this could be very dangerous. However, in most circumstances, treatments are safe and effective.

Lip Juvederm Vollure injection patient immediately after treatment
So how can you choose between fillers such as Juvederm and Restylane versus having a fat grafting procedure? Starting with a discussion with a skilled plastic surgeon is most helpful. I usually recommend starting with a gentle amount of fillers, and then adding another layer in 6-12 weeks and seeing how the results look and feel. Most products last between 12 and 18 months and then the procedure must be repeated to maintain a result. When a patient loves filler results and wants some more lasting treatments, then I would recommend a fat grafting procedure. This can be done in the office under local anesthesia with an oral or injection sedation. It can also be done in the operating room as part of a larger procedure such as extensive liposuction, facelift surgery, or body contour surgery.
To learn more, you can arrange a visit with  Dr. Suzman, starting with a video consultation, which could include 3D imaging to help simulate results. We look forward to meeting you. Dr. Michael Suzman is a plastic surgeon in Greenwich Connecticut and Westchester County New York, just north of New York City. He is a member of the American Society of plastic surgeons, the Aesthetics Society , and a Fellow of the American College of Surgeons. Plastic surgery, rhinoplasty, facelift surgery, injectables, and breast surgery have led him to be listed on many Top Doctors lists including Westchester Magazine, New York Magazine, US News & World Report, New Beauty Magazine, and the Castle Connolly Best Doctors List.