How WESTMED's Dr. Suzman Changed Maggie Smith's Life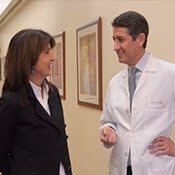 This video chronicles how Westchester resident Maggie Smith sought out Dr. Michael Suzman to correct a failed outcome of previous reconstructive surgery after a preventative double mastectomy. WESTMED plastic surgeon Dr. Michael Suzman was able to successfully perform the operation and restore Maggie with an ideal outcome.

To learn more contact Dr. Michael S. Suzman. Dr. Michael S. Suzman operates at the Rye Ambulatory Surgery Center in Westchester County, NY, is on faculty at White Plains Hospital, Greenwich Hospital in CT, and serves as a clinical instructor in surgery at Weill Medical College of Cornell University in Manhattan, NYC, Division of Plastic Surgery.