10 in a Row: Dr. Suzman Reviews 10 New York Cosmetic Surgery Cases
Plastic surgeons and their patients can learn a lot by studying 10 consecutive cases. A surgeon cannot hide from the results when they have to evaluate every case.  A good plastic surgeon works hard and trains for many years. A great surgeon continues to refine and improve so they can strive to do their best for every patient every time. 
Dr. Suzman has been helping New York patients rejuvenate their bodies in New York for many years and takes pride in each case he performs. Let's see what we can learn from evaluating Dr. Suzman's first 10 cases of the year, now that it is 6 months later and we have time to see how everyone turned out. 
Case #1 - Liposuction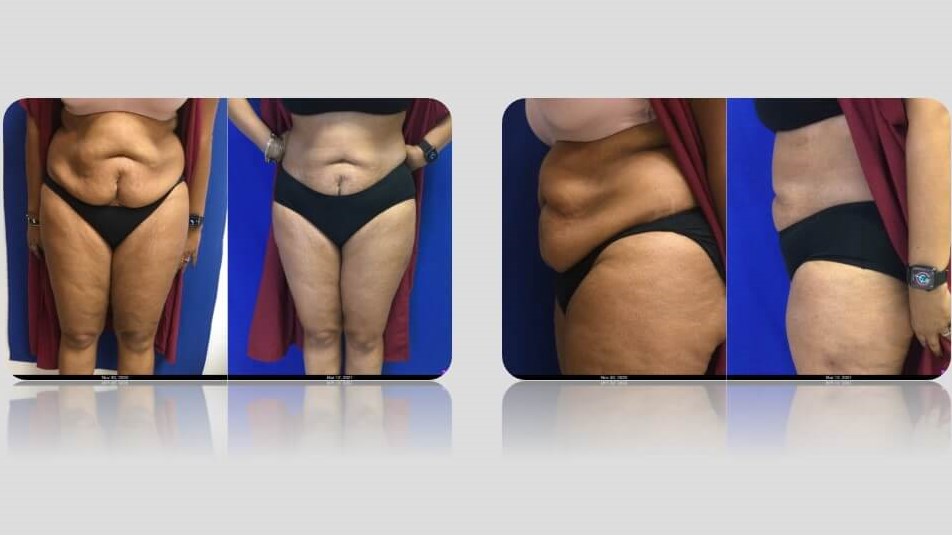 This lovely patient was unhappy with the shape of her tummy. She also had a long up and down scar from a prior surgery that was deforming.  We did discuss tummy tuck surgery which would have been a more ideal procedure for skin removal and muscle tightening. However, she did not want the longer recovery of abdominoplasty and just wanted whatever improvement she could get from liposuction.  Using the Body Jet water assisted technique along with tumscent lipo, she had a wonderful outcome.  Typically patients do not get so much skin contraction, but her result was truly outstanding.  This was an outpatient surgery and about 2400cc was removed. 
Case #2 - Facial Fat Grafting and Nanofat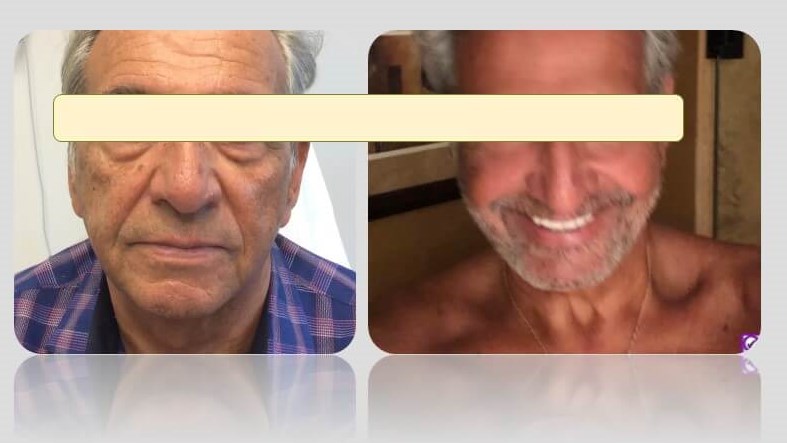 Here is a gentleman around aged 70 who was dissatisfied with the signs of aging in his face. Fillers had a minor impact, but now enough. He did not want the whole facelift procedure.  With an office based fat graft procedure of about 18 cc of macro fat and 15 cc of nano fat to eh cheek, nasolabial crease, and fine wrinkles, he had a dramatic improvement. Fat lasts for years and has some permanent collagen  and skin building effects. 
Case #3 - Lower Face & Neck Lift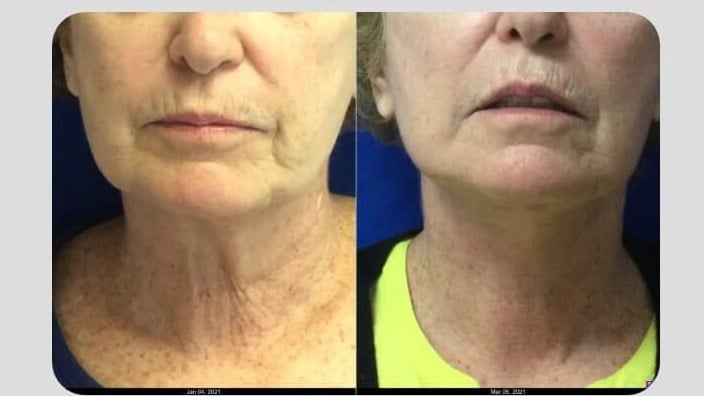 The hallmark of a facelift by Dr. Suzman is profound rejuvenation effects with a completely natural and beautiful result.   The lower face and neck lift in this patient resulted in a much smoother jowl line and tighter neck.  The 30% TCA peel helped her skin texture and sun damage spots.  Fat grafting to the cheek  lips and jowl area further help the wrinkles  including nanofat.   Even a few years ago it was impossible to help the lower neck fine wrinkles and reverse aging in this area.  Now with micro-fat grafting  techniques along with a facelift, the results are dramatic.
Case #4 - Breast Reduction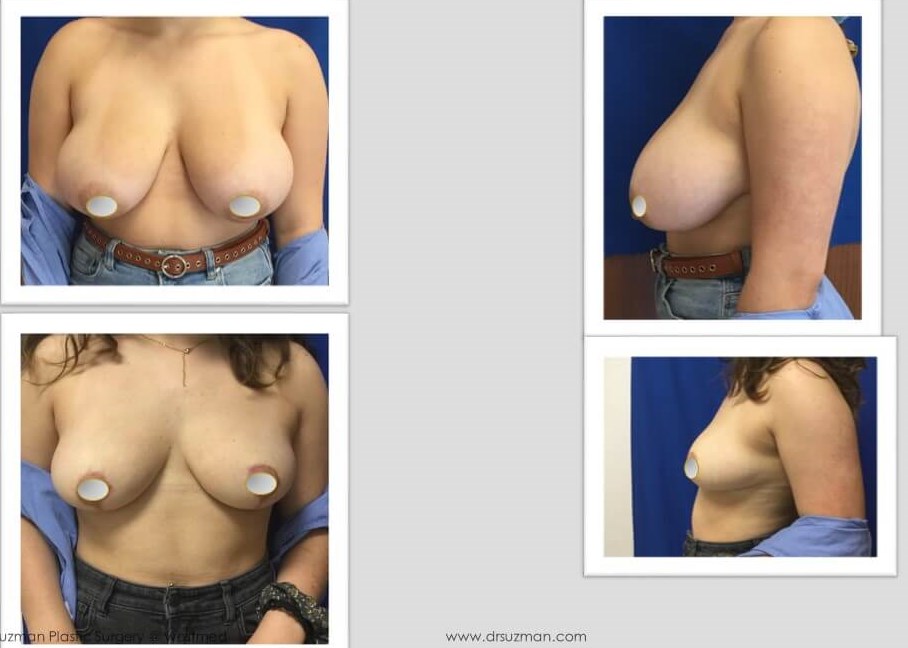 Breast reduction is one of the most popular procedures nationally and all of plastic surgery.  Using  an incision around the areola up and down and underneath, this patient had over 600 grams  removed per side going from a G cup to a C cup.   She loves her new size and shape and feels much more comfortable in clothing.  Surgery  takes about 90 minutes with Dr. Suzman and patient's stay for about 2 hours prior to going home the same day.  The scars take many months  to a year or longer to fade  and her perhaps biggest drawbacks of surgery.   However, most patients are delighted with their outcome.
Case #5 - Rhinoplasty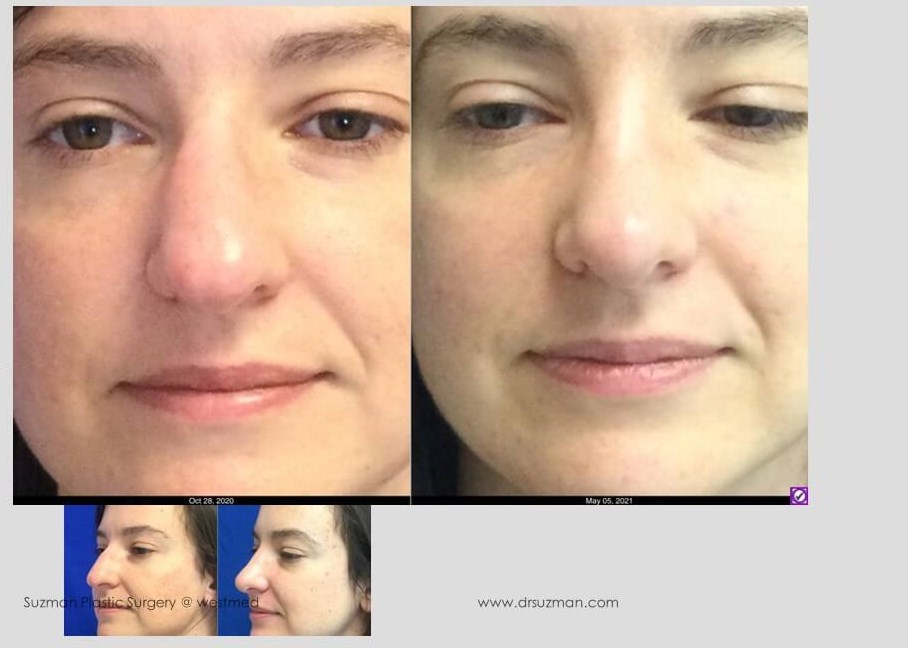 This delightful patient was a surgical challenge.  The most difficult procedure to fix on rhinoplasty  is a curvature from the front view.   This required resculpting the bones, moving the more towards the middle, correction of the deviated septum both internally and on the bridge of nose with spreader grafting,  and the complete reconstruction of the tip to make it more equal and supported.  After surgery, the patient is extremely happy with the straighter nose, and  she breathes much better.  photos are about 6 weeks after surgery and there is still significant swelling, and the result will continue to soften and improve over the coming months
Case #6 - Autologous Fat Grafting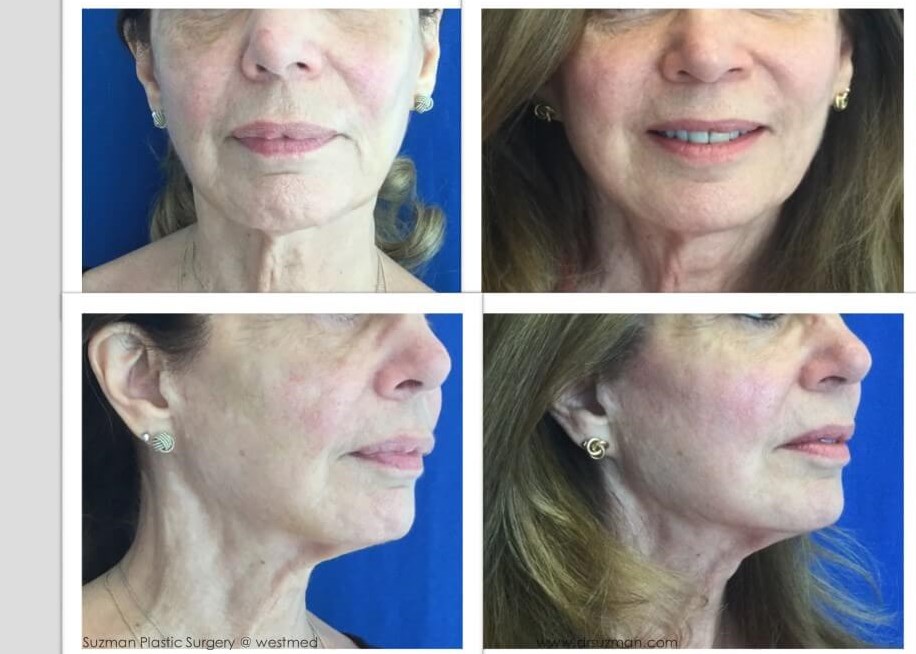 When a patient has significant signs of facial aging but does not want an entire facelift surgery, there is perhaps no more effective way of permanently reversing aging the autologous fat grafting.  In this office based procedure, we removed fat from the tummy and thigh areas, filtered it and injected about 15 cc to the cheek, chin, jawline and lips .  We then filtered 15 cc of nanofat and with a microneedling technique, improved the skin texture and contour. it would have been impossible to achieve this just with other technique such as fillers, lasers, ultherapy, or IPL. 
Case #7 - Rhinoplasty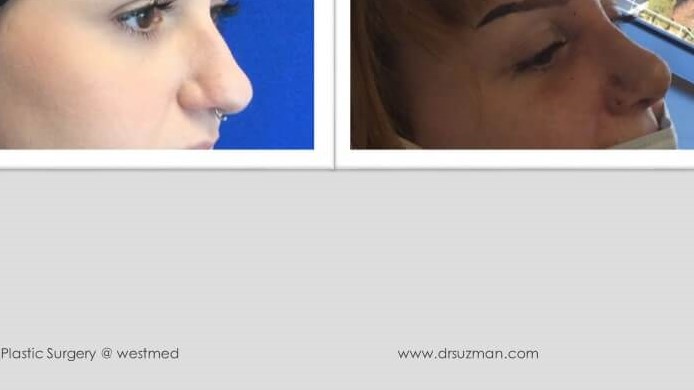 While we do not have long term follow up pictures yet (frequently happens with out of town patients who travel in for surgery with the Dr. Suzman Team), you can see how the immediate result already shows improvement. The tip is more narrow and defined and the mild bump is smoothed out.  The swelling is really mimimal with our modern rhinoplasty techniques. This surgery was done with the open technique, and when done correctly, the swelling in no different than a closed rhinoplasty. 
Case #8 - Breast Augmentation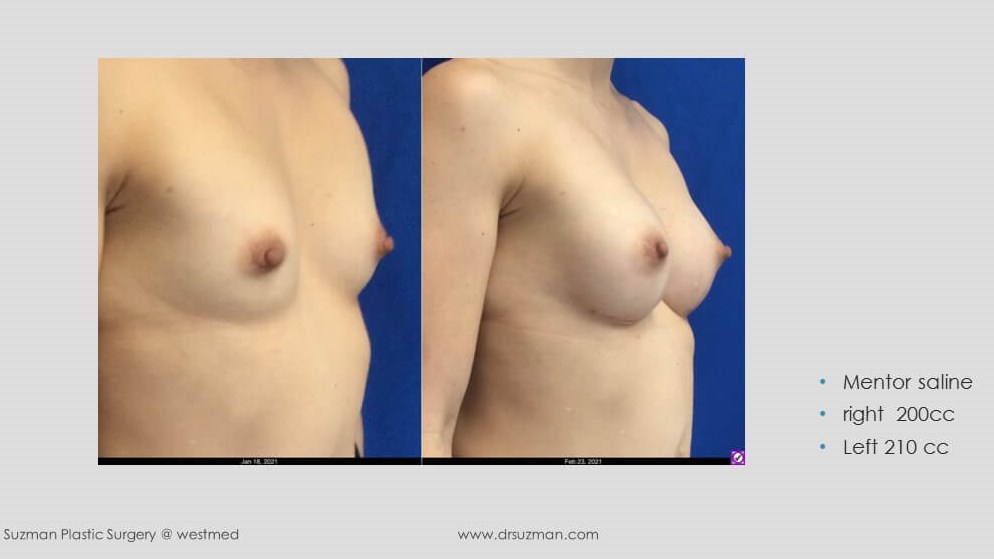 This patient was dissatisfied with her breast side and shape and wanted a very natural result. She did not want to look too big or obvious that she had implants.  She had minor asymmetry with a smaller left side to start. One of the advantages of saline versus silicone breast implants is that you can over or under fill it by small amounts. Here Dr. Suzman added 10cc more to the left size at his New York office and the result is ideal. 
Case #9 - Face & Neck Lift, Fat Grafting and Nanofat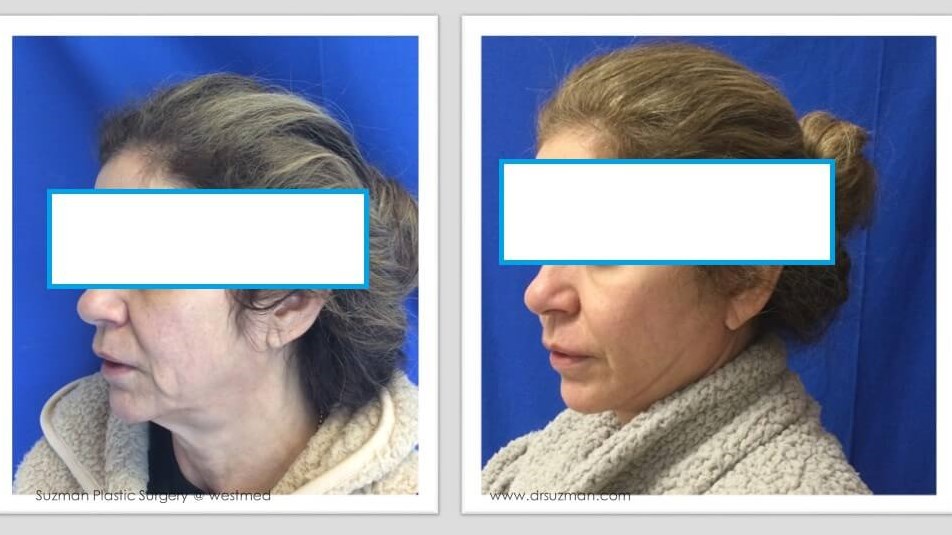 Note the improved jaw line and neck with a facelift neck left technique.  Fat grafting to the cheek area also added to the naturalness of the result.   The incisions are around the ears, and hide very nicely and eventually fade completely.   Behind the ears, the scars can be more red or wide for a while, but they are hidden.  Making someone feel youthful and restored is the hallmark of a great facelift. 
Case #10 - Rhinoplasty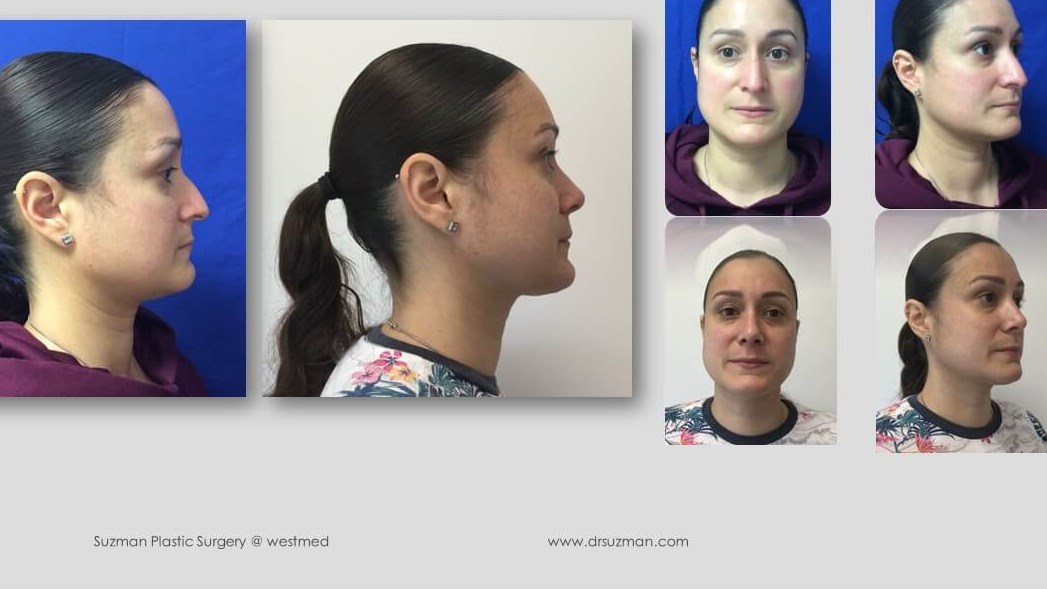 With an open rhinoplasty by Dr. Suzman, this patient had improved breathing and over her very natural shape.  We also added some fat grafting to help the cheeks and lips in a subtle and natural way.  
In reviewing these first 10 cosmetic plastic surgery cases of 2021, it is easy to see the wonderful diversity of procedures a plastic surgeon gets to perform.  Nose breast face and tummy surgery  each have wonderful outcomes.  Only a fully trained plastic surgeon certified by the American Board of Plastic Surgery has the credentials necessary to perform the entire spectrum of cosmetic and reconstructive plastic surgery. Fortunately there were no complications or negative outcomes in any of these cases.  No results are ever perfect,  but if  the outcomes are natural and the patient tolerated surgery safely, then we consider it a  victory!
Dr. Suzman is a leading plastic surgeon in Westchester County New York and Greenwich Connecticut.  He operates at Greenwich Hospital, the Rye Ambulatory Surgery Center , and White Plains Hospital. He is fully accredited by the American Board of Plastic Surgery , a member  of the American Society of Plastic Surgeons,  The  Aesthetic Society, and a Fellow of the American College of Surgeons.  After plastic surgery  training in New York City at the New York Presbyterian Hospital,  Weill Cornell Medical College, and Memorial Sloan Kettering Cancer Center, he joined Westmed Medical Group in 2002 and has directed to plastic surgery department there.  He has also served is chief of plastic surgery at White Plains Hospital  and participated in national examination preparation for the American Society of Plastic Surgeons.


You can learn more at www.drsuzman.com or @drsuzman on facebook or suzmanplasticsurgery on instagram.
.