Breast Reconstruction for the BRCA Patient: Here's what to Expect
I have the BRCA gene for breast cancer and need a mastectomy.  What should I expect?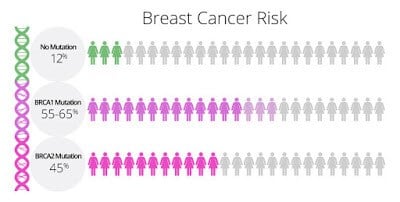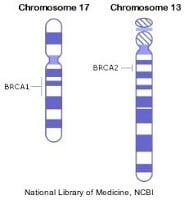 The ability to test for the breast cancer gene (BRCA) has been one of the key advances in the history of genetic medicine.  With prevention and early diagnosis, the chance of dying from breast cancer is actually going down significantly (latest cancer statistics). Because breast cancer is so common, almost everyone has been affected by it--whether a relative, friend, colleague or neighbor.   People with a strong family history of breast cancer may, but not always, carry a genetic mutation in their DNA, which increases the chance of developing breast and ovarian cancer (http://www.breastreconusa.org/).

For a patient who has tested positive for one of the BRCA mutations, a swirl of emotions can follow.  There can be relief in knowing that the disease can be prevented, along with fears of when and how to go about treatment.  With the aid of family, friends, physicians and genetic counselors, patients can gather the information needed to make the right individual decisions for their circumstances.

The typical surgery involves a subcutaneous mastectomy.  This means removing all of the breast tissue between the skin and the underlying muscle.  The recovery and the length of surgery typically depend on the starting breast size.  For a patient with a smaller breast size, such as an A or B bra cup size, it is a relatively quick and straightforward operation.  For larger breasted patients, it can take longer, but with not much more healing time.  With local anesthetics, modern surgery techniques, and anesthesia advances, it is a much less painful operation than many expect.  Recovery is quite a bit easier than the treatment for more advanced or invasive breast cancers.  However, it still takes a number of weeks to feel closer to normal. 

Most of the time, the breast can be reconstructed nicely with implants.  Occasionally, there is the need for more advanced surgery using tissues from other parts of the body.  A plastic surgeon skilled in breast reconstruction can help guide each individual patient on the best form of reconstruction.  I favor implant methods for BRCA patients because the implants come from the manufacturer equal in size and shape and give us an excellent chance of good outcome.  They are safe, and the surgery time and recovery is quite limited compared to other techniques. I always tell patients that I cannot perfectly replace the breasts that nature has provided, and reconstruction will never feel exactly normal. If we can provide a safe and relatively comfortable result that looks good in clothing, then we have accomplished something positive versus no reconstruction. Studies show that patients who undergo breast reconstruction have improved comfort, body image and personal and sexual well-being versus those who not have reconstruction.  

On occasion, patients are extremely pleased with their reconstructed result of their natural breasts. If a patient was discontented with her breast size or shape prior to BRCA surgery, mainly because of very small or very large breasts, she often can feel more comfortable and happy with the new shape from reconstruction.   Patients who were very happy with their pre-operative shape understandably can feel more disappointed sometimes.  

Even when breast reconstruction heals well with an excellent appearance, typically some differences between the reconstructed breast and a normal breast exist.  There can be areas of decreased sensation or numbness, and occasionally there can be some mild contour changes or asymmetry.  (Shape difference between the two breasts is also common in unoperated breasts).  Over time, the tissues can tighten a bit over the implant, or the implant can droop, much as a normal breast does with aging.  Over many years, there is a chance of an implant rupturing.  This is not a health hazard but would require changing the implants.  We, therefore, let patients know that over 10-20 years, the implants will likely need to be changed or removed. 
Surgery typically takes about an hour and half per breast and is done in the hospital with general anesthesia.  A breast surgeon and a plastic surgeon work together as a team.  After the breast surgeon completes the mastectomy, the plastic surgeon performs the reconstruction.  The doctors help design the skin incision together to allow for the best cosmetic result.  Many patients with smaller breasts can have nipple preservation, meaning the nipple is left in place. For large breasted patients, or those with significant "droop", the nipple is removed along with the extra skin to allow for safe healing and improved shape.  The plastic surgeon performs a nipple reconstruction procedure in the future, and it can look quite normal.

Patients typically leave the hospital the next day, although same-day surgery or multi-day stays are appropriate in certain circumstances.  Once home, patients should walk frequently, avoid heavy lifting and driving for a week or so, and slowly increase activities each day.  Two to three times a day, patients empty fluid from drains-- little tubes that help evacuate any swelling fluid or blood that accumulates under the skin, Drains do not hurt, and they come out in the office about a week after surgery. 

Most plastic surgeons start by placing temporary implants called tissue expanders. They are saline-filled implants which can be inflated in the office until the patient's breast is the size she wants it to be. Usually within a few weeks of surgery, patients are fully expanded.  After another six weeks or so, patients, return to have permanent implants placed--usually silicone gel implants that are properly size-matched for the best result.  Current generation silicone implants are a great balance between softness and shape, and are extremely safe.    Some surgeons like to place silicone implants at the time of mastectomy, and they do the entire reconstruction in one surgery.  This can work quite well, but as the body heals and the skin tightens over time, shape changes can occur that require additional small procedures.  Therefore, many patients do require further stages of surgery.   

The vast majority of breast reconstruction patients heal very well and are happy with the outcome. However, no discussion of surgery of any kind is complete without talking about risks and complications.  Healing complications do arise quite frequently, and most of them are minor. Sometimes they are significant.  It is difficult for the skin to heal well after a mastectomy, as most of the blood vessels to the skin travel through the breast that is removed.  If the skin does not heal well, sometimes the implant needs to be removed and reconstruction delayed until the healing is complete. This happens about 5 percent of the time.  The risk is higher for certain patients, including patients such as:  those with many medical problems, advanced age, obesity, very large breasts, very thin skin, previous scars of the breast, chemotherapy or radiation.  Patients with many of these risk factors can still attempt to have reconstruction. It just means a slightly higher chance of not having a successful outcome.   This is why working with a very experienced plastic surgeon who has performed hundreds of breast surgeries is essential. It also helps to work with a surgeon with whom you have a very positive rapport and ability to openly communicate. 

The great news about BRCA breast reconstruction is that our patients have an extremely low chance of ever getting breast cancer.  Anyone who has lost a loved one or friend to breast cancer understands the miracle of BRCA detection and breast cancer prevention.
We wish you health and hope for good healing.
Dr. Michael Suzman is a plastic surgery in Westchester County New York who specializes in reconstructive and cosmetic surgery of the face breast and body.  He is a clinical instructor at while medical college of Cornell University in NYC, and chief of plastic surgery at White Plains Hospital.  he has been a member of WESTMED  medical group, one of the nation's leading multi specialty group practices.   He has performed thousands of breast operations and maintained patient's satisfaction ratings in the top 1% national he according to the Press GaneySurvey.